Developing Ghana's Cashew sector: USDA PRO-Cashew project influencing positively
14 April, 2023 - 13:26
The Ghanaian cashew industry is widely considered by many cashew industry experts as one of the most promising in Africa. Ghana currently produces about 200,000 tons of raw cashew nuts (RCN), according to official data from the Ministry of Food and Agriculture (MoFA) and is among the best quality cashew nuts producers in the world. The MoFA, Cocoa Research Institute of Ghana (CRIG), the recently created Tree Crops Development Authority (TCDA) and various development partners and private sector organizations have been working collaboratively in research, increasing production, strengthening supply chain linkage, and encouraging local processing.
The USDA PRO-Cashew West Africa Project is one of the development projects playing an important role in the growth of the cashew sector, especially in increasing production, and building the capacity of cashew farmers in Ghana.
"The activities of the CNFA PRO-Cashew Project have been a very contributing one in the sense that one of the areas they cover most is to ensure that knowledge is built along the production value chain and then to support in the availability of planting materials which forms the basis for establishing cashew plantation," Station Head of the Wenchi Agriculture Research Institute, Mr. Sylvester Mensah de Clercq, said in an interview.
In 2021 and 2022, the PRO-Cashew project distributed 19,000 and over 51,000 improved cashew seedlings respectively in 10 selected districts across five regions in Ghana.

A total of 1,670 smallholder cashew farmers have so far benefited from the seedling distribution, a minimum of 40 seedlings per farmer. The project has, therefore, supported a total addition of at least 1,670 acres of cashew plantations in Ghana between 2021 and 2022. They have also held a training workshop for 30 Extension agents in these districts to train farmers on good agricultural practices (GAP).
As part of its efforts to build the capacity of cashew farmers to enhance production, the PRO-Cashew West Africa Project held a two-day cashew stakeholders' workshop at Kumasi in December 2022 to validate its new cashew training manuals for cashew farmers in Ghana.
In all, seven (7) training manuals were validated. They include training manuals on establishing new cashew plantations, maintenance of cashew plantations, pest and disease management, rehabilitation of dense orchards, harvesting and post-harvest operation, cashew quality standards and determining raw cashew nuts (RCN) quality.
The training manuals, when approved by the Ministry of Food and Agriculture (MoFA) and other authorities, will be used by Extension Agents and other facilitators in building the capacity of cashew farmers in the project districts to enable them to maintain their farms.
Country Representative of the PRO-Cashew project in Ghana, Eric Botir Heinno, indicates that the new training manuals were developed in line with new and innovative cashew farming practices and taking into consideration science and technology.
"For several years, cashew farmers have been trained using a variety of training materials, some of which are old and are no longer applicable to current realities, especially in the areas of improved yields, quality, and climate resilience. Science and technology have immensely contributed to the advancement of cashew orchards' establishment and management practices. However, these innovations are not reflected in many training materials being used to train cashew farmers in recent times in Ghana," he said.
He indicated that PRO-Cashew's training manuals were developed based on recent and earlier experiences from similar project manuals developed by public and development cooperation agencies in Ghana, Cote d'Ivoire, Nigeria, Benin, and Burkina Faso. The validation workshop was to allow for modifications to suit the current challenges of the Ghanaian cashew farming system and practices.
According to him, once certified by MoFA and the TCDA, PRO-Cashew will then proceed to print these manuals and distribute them freely to Extension Agents and cashew farmers in the project districts in Ghana.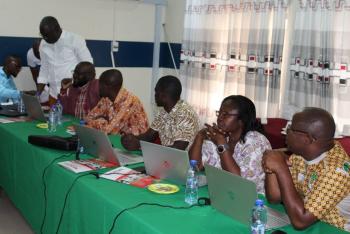 The two-day workshop was attended by experts from the Directorate of Crop Services of the Ministry of Food and Agriculture (MoFA), the Cocoa Research Institute of Ghana (CRIG), the African Cashew Alliance (ACA), the Market Oriented Value Chains for Jobs and Growth in the ECOWAS region (GIZ/MOVE), and TechnoServe Prosper Cashew.
According to a Principal Research Scientist at the CRIG, Dr Esther Gyedu Akoto, the PRO-Cashew project's new cashew training manuals for farmers, will help in getting some of CRIG's new recommended cashew farm practices to farmers and help train them to adopt these recommendations, which will go a long way to ensure farmers adhere to good agricultural practices and in turn increase their cashew yields.
"The manuals are not so different from previous ones, in terms of general content. However, new findings have been included in these manuals. With time we tend to do more work and investigations and we get new findings; this brings about new recommendations. As we reviewed these manuals, we kept adding new information we have worked on that we think will help the farmer," she said.
She described the validation workshop as "important" since it allowed for expert review of the manuals, adding that this will contribute to "increasing farmers' knowledge first then increasing their adaptability levels".
While commending the Project for developing the manuals and for their role in increasing cashew production, Dr Akoto called on them and other development partners to support in developing "nonchemical pest and disease control strategies". This, she believed will help in the production of organic cashews in Ghana.
"Every consumer is aware of the effects of prolonged use of chemicals, and everybody is running away from it. So, what are the alternatives? Let's look at non-chemical use strategies. We also need to develop high-yielding planting materials; we need a pest and disease-resistant planting materials with all the qualities. Research is ongoing but we need to do more. We need support, especially in terms of funding. We also need to research the area of cashew apple processing and develop it," she highlighted.
In 2023, according to Mr. Botir, the PRO-Cashew project will continue to work together with stakeholders of the industry to build the capacity of farmers and support them in increasing their production.
"We plan to distribute 50,000 improved cashew seedlings in 2023, conduct a cashew yield survey of existing farms, and conduct nut quality training for 30 Agriculture Extension Agents (AEA)," he said.
The CNFA PRO-Cashew West Africa Project is a five-year United States Department of Agriculture (USDA) project implemented by the Cultivating New Frontier in Agriculture (CNFA) in five West African Countries: Cote d' Ivoire, Nigeria, Ghana, Benin, and Burkina Faso. Launched in 2020, the project is aimed at promoting the West African cashew value chain, bringing professionalism into the cashew industry, and encouraging the proactive participation of stakeholders of the cashew value chain.
The Project seeks to increase the productivity and efficiency of farmers in the cashew value chain by improving crop quality and strengthening the capacities of cooperatives, farmer associations, nursery operators and input suppliers as well as boost cashew trade by improving harvest and post-harvest techniques, addressing gaps in data collection, and improving supply chain linkages.
The Project uses five approaches to achieving its objectives: capacity building, grants, developing Agrodealers and input suppliers, developing an integrated data system and improving policy and regulatory framework.
Ten districts are currently benefiting from the PRO-Cashew Project in Ghana. They are the Wenchi and Tain districts in the Bono region, Nkoranza North and Kintampo South districts in the Bono East region, Tano North district in the Ahafo region, Bole-Bamboi, Sawla-Tuna-Kalba, and West Gonja districts all in the Savanah region, Nkwanta South in the Oti region, and the Central Tongu district in the Volta region.