Value Chain and Gains - A Preview of This Year's Conference Theme
3 September, 2013 - 15:45
One Tree, Many Benefits: Potential Gains in the Cashew Value Chain
Last year in Ghana, 60,000 small holder farmers tended to cashew trees on around 60,000 hectares of land. While best known for producing a kidney-shaped snack nut, these trees and their products hold potential far beyond one type of consumption. From pastes, to juice, to cookies, discovering the many uses of the products of the tree is crucial to truly taking advantage of this unique natural resource and to boosting a sector which accounted for 6% of Ghana's total GDP last year.
Cashew trees, which are most commonly found in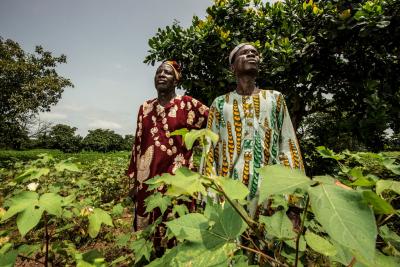 the Brong-Ahafo Region, thrive in Ghana's tropical climate, eventually transforming warm air, generous sunlight, and soil into tangible benefits for the many people who base their livelihoods on the tree. While they generally grow best in sandy soil, the trees are strong and can adapt quickly to a variety of soil types. Throughout the year, their wide branches will produce flowers, seeds, and apples, all of which attract a variety of bird and bats. Perhaps the most fervent consumers of the tree's products are humans, who currently consume a processed form of the seed, the cashew nut.
On a typical cashew farm, the cashew nut is, as expected, the primary focus. Cashew apples are picked from the tree and typically discarded once the nut is taken from the bottom. In a typical cashew processing factory, the focus narrows to whole cashew nuts, a select few that make it out of the un-shelling and roasting process in one piece. While these nuts eventually become a delicious snack food that is in high global demand, they are only one source of value from a long value chain. This feature will explore the value chain for gains that are currently being lost.
The Cashew apple, which resembles the bell pepper in shape and color, is often forgotten once the nut is removed from the bottom. While it is sweet to eat, the apple is very perishable and therefore does not preserve well from tree to market. Instead, the sweet, juicy fruit offers the potential for a variety of products which add value to its raw form. Cashew apple juice carries many of the same benefits of other fruit juices, with large amounts of Vitamin C and a similarly sweet flavor. At Mim Cashew and Agricultural Products Ltd.,a cashew plantation and processing factory in the Brong-Ahafo region, cashew apples are used to produce Cashew Apple Brandy. The cashew apples can also be used to make jams or preserves for recipes and simply to spread on a piece of toast. One thing is for sure, these forgotten by-products are far from useless.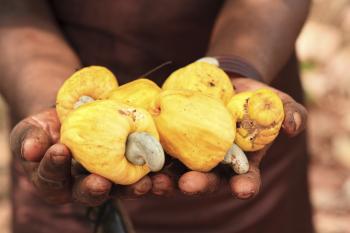 A less apparent, but no less valuable product of the cashew tree is Cashew nut shell oil (CNSL), a dark red liquid which is contained in the honeycomb structures of the cashew shell. CNSL has been used in folk medicine for years, and it's many other benefits are just beginning to be discovered. It can be used in manufacturing, for a wide variety of items including paints, rubber and laminating resins, cements. It can also be used to line automobile brakes or floors that might be exposed to chemicals. Various equipment manufacturers have already developed machinery to extract and process this valuable, and surprisingly indestructible, oil.
In the global market, cashews are sold in 26 different grades. There are whole cashew nuts, which will eventually be packaged as bite-sized snacks, but there are also splits and bits that are fragments of the once-kidney-shaped raw cashew nut. All too often, these splits and bits are written off as the mistakes of the cashew processing industry and their potential use in a variety of products is forgotten. Discovering outlets for these by-products would help larger processors improve profitability and smaller processors expand.
One potential use of these fragments, which is already being tried throughout Ghana is producing cashew butter, similar in taste and texture to the highly demanded groundnut butter. Cashew milk, created from the nut, could offer an alternative to dairy in a delicious and smooth drink. Additionally, the broken nuts can be used in cereals, granola bars, and many different snack foods that do not require whole nuts.
In a recent interview with the African Cashew Alliance, Dr. Kantha Shelke, a food scientist and expert on the Global snack and ingredient market stated that "the future look bright for cashew-based products". She highlighted that cashews could be used in niche snack market "for those who are seeking gluten-free foods and food with fiber". Additionally, Dr. Shelke stated that "with the increasing attention on saturated fat, cashew milk and butters are healthier alternatives for the baking and prepared food industry". Overall, Dr. Shelke brought attention to the international demand for products which are created from the "mistakes" of cashew production.
ACA World Cashew Festival and Expo 2013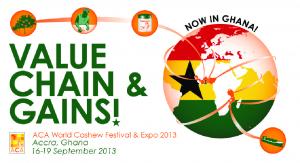 From September 16-19, cashew industry representatives from around the world will gather at the Moevenpick Ambassador Hotel in Accra, Ghana to explore the hidden gains in the cashew value chain. The program will explore this untapped potential in the cashew industry in a variety of settings. At a Plenary Session, conference participants will hear from a range of experts. Food market expert, Kantha Shelke, will present on consumption patterns and the cashew, and will also address new potential markets for the cashew and by-products. She will also discuss African consumption of cashew and how to best capitalize on specific consumer choices. The World Cashew forum will include five sessions: Farming, Processing Techniques and Technologies, Cashew and Sustainable Ideas, Finance and Investment and Cashew Policies workshop. Each session will dive into one of the aspects of the cashew value chain, giving participants a greater understanding of the market as a whole. Business2Business meetings offer participants the unique opportunity to meet with potential business partners in one-on-one meetings set up specifically by ACA. The Expo 2013 will feature some of the cashew industry's most prominent equipment and service providers, giving participants a chance to both meet representatives and see the newest technology first-hand. Finally, conference participants will get the chance to visit one of Ghana's very own processing factories, the Mim Cashew Factory. They will see how the seeds of the cashew tree are transformed into high quality cashew nut kernels, from the farm to the market.
More than anything, participants in the ACA World Cashew Festival and Expo 2013 will leave with optimism and anticipation of what is to come in the African cashew market. The cashew tree holds so much untapped potential, which will surely be uncovered at the conference. Who knows, you may find your own hidden gain on the cashew value chain.